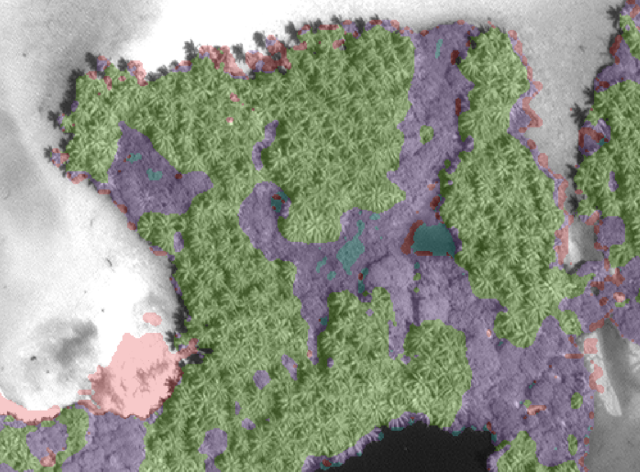 Ecohydrology of Coral Islands 
Mike recently took a trip to Palmyra Atoll to begin to investigate the hydraulic adaptations of trees native to low coral islands, like these huge Pisonia grandis trees. Formerly widespread, these trees have been replaced by water-hungry species on many islands. Mike hopes to quantify the impacts these changes have on these small islands' fragile water resources and ecosystems. We hypothesize broadleaf trees like Pisonia use less water, build richer soil, and help support unique island fauna like coconut crabs (Birgus latro) that use their roots for shelter and collecting rainwater.
Preliminary results indicate Pisonia are slightly more water-stressed when growing in competition with coconut palm (Cocos nucifera), although increased shading from the coconut helps alleviate water stress in the hottest periods of the day. Coconut crabs are also significantly more abundant in areas of broadleaf forest, but that may change because of Palmyra's recent rat eradication which eliminated a significant resource competitor from the atoll. Future work will use more advanced sensors to directly examine transpiration rates and groundwater dynamics on tropical atolls, then scale observations up using high-resolution forest maps of 270 atolls and coral islands generated by Mike for The Nature Conservancy.